Find here a CTC Laundry one-stop shop, including facility locations and value cards, reporting repairs, cleaning, etiquette, and proper machine use
Public Health Updates
Reduce the Spread / Hygiene and Sanitation Practices
We ask all residents to continually be mindful while using communal spaces, including laundry rooms, to reduce the spread of viruses and infectious diseases. 
CDC: Everyday Cleaning + Disinfecting
Regularly cleaning surfaces in laundry rooms helps prevent the spread of germs that can make you sick, such as norovirus, Shigella, Giardia, coronavirus, and Monkeypox. Cleaning surfaces removes germs, dirt, and other impurities and helps you, your family, and community, stay healthy. 
The most reliable way to prevent infection from surfaces is to regularly wash your hands often with soap and water, or use an alcohol-based hand sanitizer with at least 60% alcohol before eating or touching your eyes, nose, or mouth. Cleaning and disinfecting surfaces can also help prevent the spread of germs or risk of infection.
Read more CDC recommendations for When and How to Clean and Disinfect Your Home, which also applies to shared community spaces. Continually refer to the CDC's website and guidelines for new or changing information.
Laundry Room Use
Do not enter if sick
Do not enter facility if you suspect you are sick or are experiencing any symptoms, such as fever, cough, or shortness of breath. Stay home and take proper caution.
Limit One person at a Time
Do not enter if someone is inside room (use/refer to posted occupied door sign). Minimize time in room, promptly advance laundry when the cycle is complete, and remove all belongings  external of machines every time you exit.
Use Door Sign 
2- and 3-Bed Laundry Rooms: Flip door sign to indicate your use of the room if unoccupied. Write estimated time of completion with the provided marker. Once finished with the machines, remove belongings, disinfect the room, and erase the time for next user to enter. 
1-Bedroom Units: As your laundry rooms are set up much differently, your process will differ than the above. Please wait for direct communication from Ward Representative regarding the process to use your building's laundry room.
Disinfect before + after use
Spray disinfectant in machines and on all hard surfaces, waiting 5 minutes before use. Repeat process upon leaving. Wash hands carefully with soap right after touching any public facility.
Member Cleaning Tasks:
The assigned member will continually fulfill their laundry room cleaning with the standard two day minimum. Despite the added professional cleaners coming in weekly to sanitize the rooms, we are counting on our cooperative members to maintain a clean and safe environment for our community's access.
Completing all tasks on the Member Cleaning Checklist at least twice a week
Do not dispose of any cleaning bottles; we can refill them! Replenish laundry room cleaning supplies by placing a maintenance request. Specify the room's building number and any other details in your request and the supplies will be delivered as soon as possible. 
Updated Laundry Room Map
View COVID-19 Laundry Room Map, addressing changes in effort to minimize the spread of the virus.
 
---
Facilities and Laundry Cards
CTC uses BDS Laundry services, which supplies all the laundry equipment seen throughout our co-op. This includes the card-reader operated washers and dryers in our 38 laundry rooms, as well as the laundry cards and the re-value stations. Residents can access all co-op laundry rooms with the laundry key provided at move-in, apart from those located within the one-bedroom buildings.
Add Money or Replace Cards
You can purchase and refill laundry cards at the re-value stations located in the Community Center and the Study Center. The Study Center station is accessible 24/7 with your laundry room key (U of M #57) via the south entrance facing Gibbs Avenue.
Request New Laundry Key
Receive a replacement or additional laundry room key ($10) by placing a maintenance request.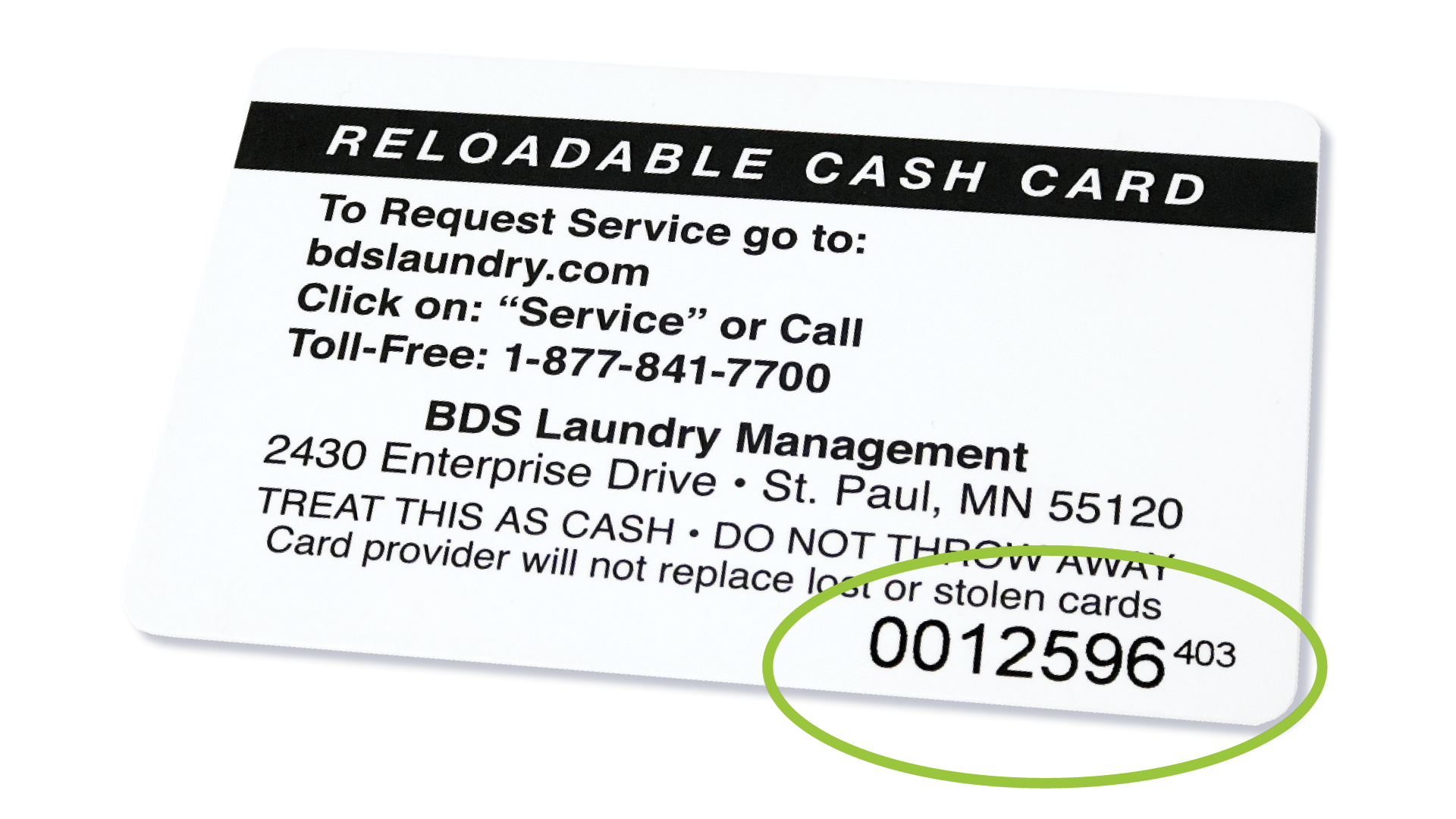 Insurance Tip!
Document the number on the back of your re-fillable card or register your card on the BDS website. By doing so, you have a greater chance of finding your card or receiving a refund of the current balance if you ever lose or temporarily misplace it.
Report Machine for Repair
When to Report BDS Laundry Machine Issues:
Needed Repairs: Machine is not working properly, broken, or inoperable
Poor Service: Machine/cycle did not sufficiently clean clothes, or other inadequacy
Needed Cleaning: Machine is unreasonably dirty or smells
Why Should I Report Issues?
Allows the ability to resolve the issue, helping you and your neighbors' optimize use of the machines
Assists CTC and BDS to properly address and track issues
If perpetual issues or insufficient service is detected in residents' reports, CTC can reevaluate or renegotiate our contract with BDS, which is due for renewal in 2024.
Steps to Report an Issue: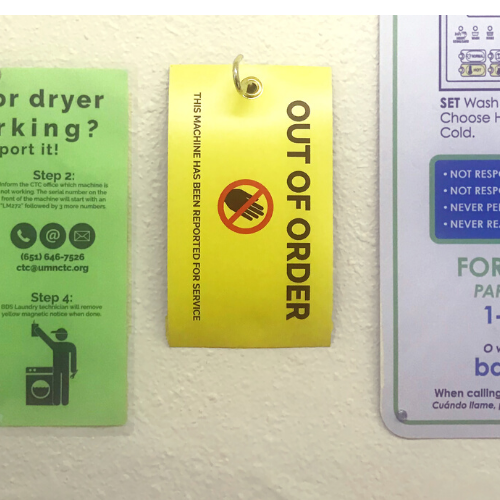 1. Retrieve Magnet
Find the yellow, 'Out of Order' magnet
hanging on laundry room wall hook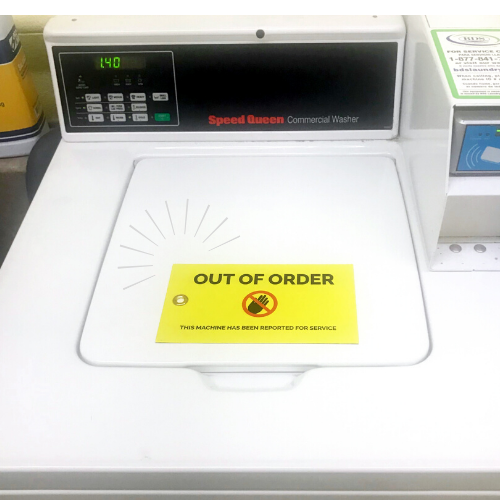 2. Place on Machine
Put magnet on the machine requiring
maintenance to indicate repair initiation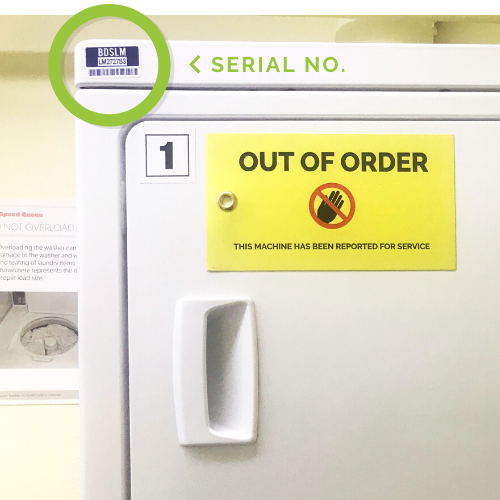 3. Notify CTC Office
Report issue and serial number of defective
machine to CTC Office (651-646-7526)
Proper Use of Machines
Follow Directions in Laundry Room
Optimize every cycle by utilizing the directions posted in all laundry rooms, informing on the correct use of detergent, cycle selection, and payment.
Do Not Overload Machines
Damage to the machine and laundry items will incur, in addition to ineffective cleaning/drying of the clothing in the cycle. Maximum proper load size.
Sanitize Machine Before Use
Spray provided disinfectant into machine prior to use and wipe dry.
Laundry Room Etiquette

Operate Efficiently 
Promptly remove your laundry load once the machine completes its cycle, optimizing machine efficiency and neighbors' use. Don't start a load and leave for the day. Instead, set a timer on your phone and change out your clothes when they're done, this way other residents can use the machines they need.
Respect Others and Facilities 
Be considerate of your neighbors' possessions and the room itself. This includes maintaining the cleanliness of the room, tidying up after yourself, and acting helpful and contentious overall.
Minimize Noise Output
Close the laundry room door when the washer/dryer are in use and refrain from doing laundry during Quiet Hours (10 pm-7 am), otherwise the noise is disruptive to your surrounding neighbors.
Laundry Room Cleaning
As part of service to CTC, each member is responsible for cleaning the laundry room as fulfillment of membership responsibilities. It is each member's duty to make sure the laundry room continues to be clean the entire week (on average at least twice per week) and restock cleaning supplies when empty. A list is provided in the laundry room to sign when the cleaning is completed. Failure to complete cleaning on time can result in a $40 fee.
Questions? Email your Ward Representative or CTC's Office.
New Member Cleaning Schedules
Starting March 13, 2023, all wards and co-op members will use a new and improved laundry room cleaning schedule to easily find and manage assignments, reminders, and more!
The schedule will be available via your RentCafe login > Resident Resources > Member Cleaning Schedule.
Cleaning Checklist:
All Purpose Cleaner

Use the All Purpose Cleaner to spray and wipe dry the following:

Counter tops
Walls
Sink 
Outside of washing and drying machines 

Disinfectant Spray

Use the Disinfectant Spray to spray and wipe dry the following: 

Counter tops
Door handles
Sink
Inside of washing and drying machines

Floor Cleaner

Fill to first line in bucket with Floor Cleaner, then fill rest with water.

Sweep floors (first)
Mop floors (second)

Plus, Residents in One Bedroom Buildings:

Sweep and mop common areas on both sides of the building (hallways, stairs, landings, etc.)

Miscellaneous

Additional tasks include:

Empty trash bins if over halfway full
Restock depleted laundry room cleaning supplies at CTC's Office
Spray and wipe dry windows with glass cleaner 
Place a maintenance request for any light bulb replacements (interior and exterior), clogs, or other building maintenance needed.
During winter months, remove snow and ice at entry
Promptly resolve any needed services - such as burnt out light bulbs (interior and exterior), sink clogs, laundry machine repairs - by submitting a maintenance request via your RentCafe account. When reporting laundry repair issues, please provide the building number and machine serial number. 
Smell Gas? ⚠ 
Immediately call 911 or Xcel Energy at 800-895-2999, then call the office at 651-646-7526 to reach CTC's maintenance support (on-call 24/7).