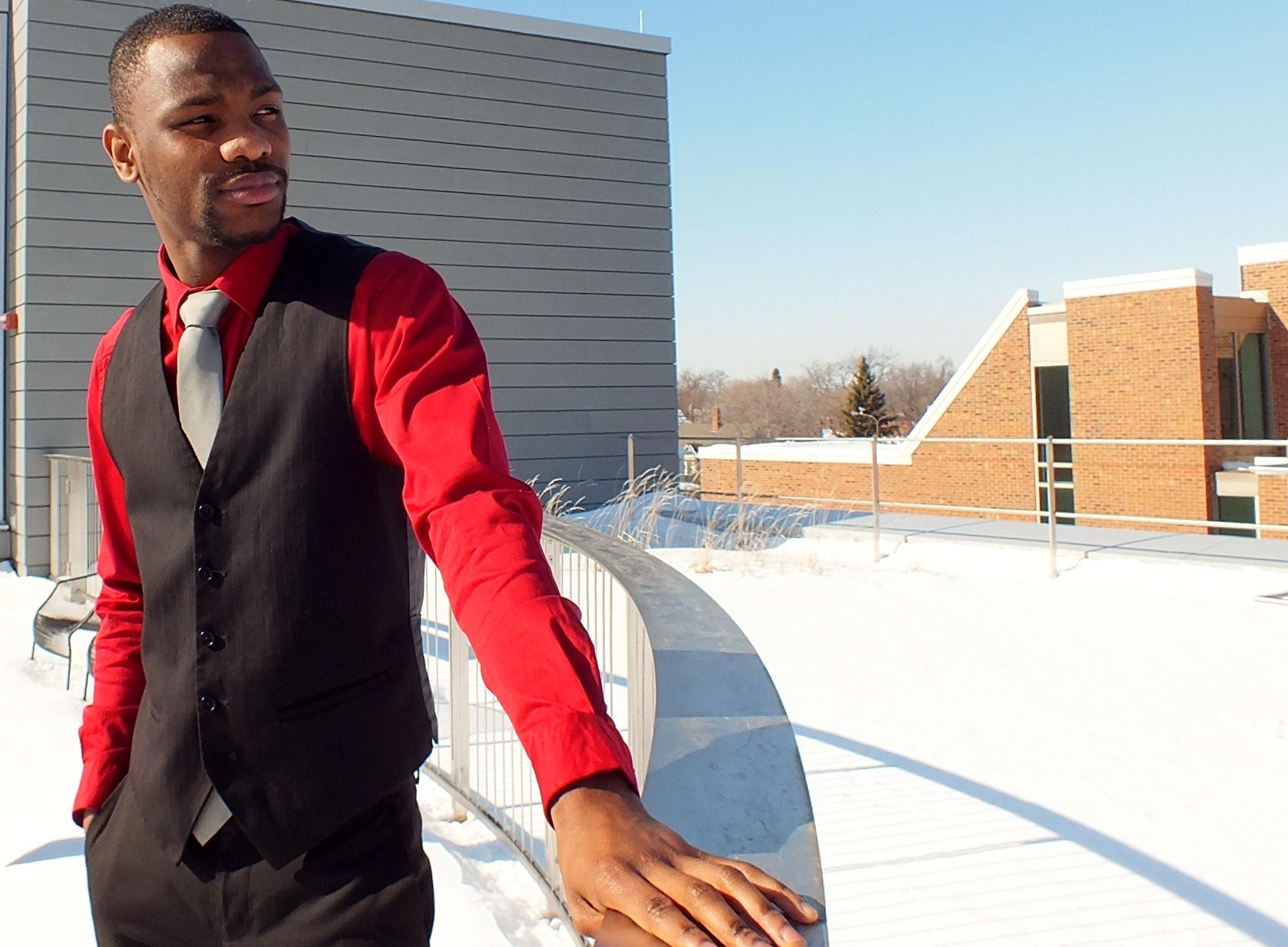 Community Highlight: Yakasah Wehyee
Yakasah Wehyee is a former refugee, a Liberian immigrant, and now the youngest city councilmember in Falcon Heights, in addition to the first ever councilmember living in rental housing – living right here in CTC! Learn Yakasah's formula for success and the important role you play.
Posted by Yakasah on November 5, 2019 upon winning the election.

Your neighbor, Yakasah Wehyee, was recently elected to Falcon Heights City Council, officially taking office in January 2020. Yakasah is incredibly bright, personable, and experienced, that his winning doesn't come much as a surprise. He's frank, however, that he comes from a background which alludes to he should not be where he is today. Looking at the City Council's demographic alone, Yakasah is the youngest councilmember as well as the first ever to live in rental housing. A former refugee and Liberian immigrant, Yakasah will also become the nation's fourth public official of Liberian descent serving in the United States.
So how did he get here? We sat down with Yakasah to discover the answer, as well as his priorities once assumes his new position in January, bringing the needed fresh change to our surrounding city and CTC –  but he needs your help.

Stimuli to Run - and Win!
Born in Liberia, Yakasah lived in refugee camps on the Ivory Coast in escape of the First Liberian Civil War until moving to Minnesota at the age of six. Now living in CTC at the age of 28, Yakasah is a U of M Political Science doctoral candidate and - most recently - an elected member of the Falcon Heights City Council. Yakasah's unique upbringing didn't exactly equate to his political success. While unconventional, Yakasah can clearly delineate the defining features that set him up to be who and where he is today: through seizing all opportunities, his devotion to public service, and the support of his family, friends, and neighbors.
 

Yakasah always aspired to run for state or federal public office after his Ph D. However, he began losing his connection to the community while undergoing his demanding Ph D. program, which made him uneasy being such a community oriented and active individual. Yakasah's wife, Esha, saw he was grappling with this dilemma and suggested, "Why don't you just run for city council?"
Invigorated, Yakasah launched into investigation, discovering the city's current issues are topics he already personally identifies with and is driven to solve. In union with his extensive background in community organizing, Yakasah realized he was destined for the job and commenced his race for an open seat on the council.
 
Yakasah proclaims his primary initiatives in his campaign for Falcon Heights City Councilmember.

Yakasah concisely demarcates three key priorities when he takes office in January 2020:
Cultivate a more safe and welcoming community
Create policy solutions to city's infrastructural challenges and affordable housing initiatives
Promote sustainable methods, nurturing a clean and healthy environment
These principles guided our interview with Yakasah, corresponding with this article's remaining sections: Commitment to Community, Affordable Housing, Future Redevelopment of CTC, and Composting.

Commitment to Community
The cultivation of a more caring community is a fundamental initiative for Yakasah in office, as well as a fundamental attribute in his personality. Yakasah first recognized his commitment to community in high school where he participated in more extracurriculars than he can exhaustively recall today, such as serving as council president (and vice president simultaneously!), organizing national night-outs, and an active member of numerous community groups.
"I like to be able to identify challenges, get involved, and bring people together to figure out, 'OK what can we do?'"
"I think it stems from my love for people, for humanity, and just the belief that we are stronger together. While the world is a big place and we exist in huge systems that we can't always see, it is possible for individuals to make change – even if it's a minute change." Yakasah explains our actions are important, because – despite possibly seeming insignificant – small personal changes in a complex system aggregate a ripple effect (continuing and spreading results of an event or action), producing substantial effects locally and/or elsewhere.
He adds there's a responsibility we have to ourselves and others to get involved and strive for positive change: "If I don't care, who's going to care? People make the arguments, 'we can't fix everything,' or 'I'm just one person, I can't do that.' If we all adopt that philosophy, then we wouldn't be where we are today. Somebody has to care. My perspective is, why not me? and why not you?" 

Affordable Housing
Affordable housing is another primary initiative of Yakasah's, being a first-hand advocate to the essential opportunities it provides from his residency at CTC. Yakasah intends to protect and empower renters, a traditionally underrepresented population in the political realm.
"Quality affordable housing is not a privilege only to be enjoyed by some, but is a human right that should be available to all," he says. Affirming, it is necessary for young working-class professionals who are trying to advance their education to get to a place where they are contributing to society, as well as support their families. Without a place to live, the foundation does not exist for the individual to succeed.
"I'm someone that came from a background that, on paper, I'm maybe not supposed to be where I am today. I'm here because I was given a lot of opportunities to succeed. If I didn't have a stable home to live in, I wouldn't be where I am." Yakasah mentions his transcripts reflected the period when he lacked a stable home, recording 20+ truancies in a single semester.
 
"I'm a living testament to how important affordable housing is," he adds. "When I got accepted to the Ph D program, I couldn't work full time and had to give up my job. And my only source of income was what was being provided by the University, which was a lot less than what I was making before. I wouldn't be able to stay in my program if CTC wasn't an option for us, because - even though my wife is doing great in her work - her income alone wouldn't have been able to allow us to stay where we were before. CTC made it possible for me to pursue not only my academic career and interests but also even this office that I currently hold [on City Council]."
Yakasah's wife, Esha, shares the belief to prioritize affordable housing, composing a published article in the Pioneer Press even before our co-op's call for Community Impact Statements last November.

Future Redevelopment of CTC
CTC is in need of a facilities upgrade and the U of M St. Paul Campus future facilities plans suggests an overhaul of CTC as it exists today, with the addition of more profitable developments. There is a shared concern that the property will lose its element of affordability, especially for the students that rely on it in order to attend their University programs. CTC, as the managing agent for the University property, is at the mercy of University's discretion due to their ownership of the land and property. In which case, our community's voices are the vital factors needed to reclaim control for the co-op's future, deviating from the possible revenue-driven plans of and for the University.
 

Yakasah aims to ensure our community's best interest is considered in the planning process. He hopes to have an amplified voice, as both a city councilmember and CTC resident, and collaborate with the co-op to stay abreast of the latest developments and surrounding conversations.
"It's tough to really have these conversations because everything is very nebulous right now, with no real concrete plan. That's why it's good to get involved early. This is a very important community for not only the graduate students and families that live here but also for the city as a whole – and certainly for the surrounding school districts. I know they appreciate our very smart kids attending their schools."
The University does not need to adhere to city limits nor regulations with buildings and development projects. Rather, the University follows their own internal standards, which our cooperative's U of M liaison says, "makes building development very expensive and restricts affordability." The University is considering implementing high rises and store fronts to offset their expensive developments, both of which have received opposition from CTC and surrounding Falcon Heights residents.
"The big thing I would certainly emphasize is to what extent would the new developments preserve the family. I'm not against high density buildings that would bring in more residents -  that's something I would actually support - but I would also want to make sure that we have housing available for families as well in this sort of structure that we see within CTC currently."
Calling all CTC Neighbors
Moving forward, Yakasah seeks the support of co-op residents in building our relationships and presence with the greater community: "One thing I really want CTC neighbors to do is to is increase participation in city wide events. In the game of politics, it's all about who shows up. If you don't show up, then unfortunately you're largely forgotten or ignored. Now, I'm in a position where I represent Falcon Heights, broadly speaking, but particularly residents of CTC on the Falcon Heights City Council. Yet, I can't do that alone. It doesn't look very good if I'm the only one saying, 'Yes, these things matter to renters,' but then renters aren't showing up or participating in any community events. As a community of renters, I think we can definitely be more visible and active in events around the city."

Composting
Lastly, Yakasah will prioritize sustainable methods in attempt to mitigate global warming and the challenges it presents. Yakasah says, "One of the best ways to contribute to clean energy is by composting organic matter."
Composting is important because it alleviates greenhouse gases, while redirecting nutrients back into the soil in benefit of your/local gardens. National recycling campaign, 'Recycle Now,' further explains the phenomena: "When waste is sent to landfill, air cannot get to the organic waste. Therefore, as the waste breaks down it creates a harmful greenhouse gas, methane, which damages the Earth's atmosphere. However, when this same waste is composted above ground at home, oxygen helps the waste to decompose aerobically which means hardly any methane is produced, which is good news for the planet. And what's more, after nine to twelve months, you get a free fertilizer for your garden and plant pots to keep them looking beautiful."
 

"CTC helps my family with composting. It made the process of composting a lot easier, because the compost bin is in a communal area that you just walk to and dump the compost in. Since we've made the commitment to composting, it's been very easy and, because of the accessibility of the bins, we've been able to maintain that practice and it comes as second nature." 
Yakasah also mentions a drastic reduction in the amount of garbage as a result of his household's composting practices. This is supported by Ramsey County's calculation that over 30% of our garbage's contents are food scraps and other organic waste. 
Join the Compost Movement
Pick up a free food scrap collection (organics recycling) starter kit from Falcon Heights City Hall! The kit includes a small kitchen caddy, compostable bags and tips for success. 
The compost process at CTC is our Operations Committee's newest task after concluding their parking policy revamp assignment. The committee will evaluate the most effective method, then focus on efficient implementation including communication and signage. Share your composting experience and needs by uniting with the committee at their next meeting on Monday, January 27th. 

Upcoming Events
Join Yakasah in celebrating an amazing, historic election and the start of his work as Falcon Heights Councilmember:

Resources

Submit Your Own Highlight!
Do you have a story/news/accomplishment you want to share with the community!? Let us know at community@umnctc.org and we'll elevate your voice together!