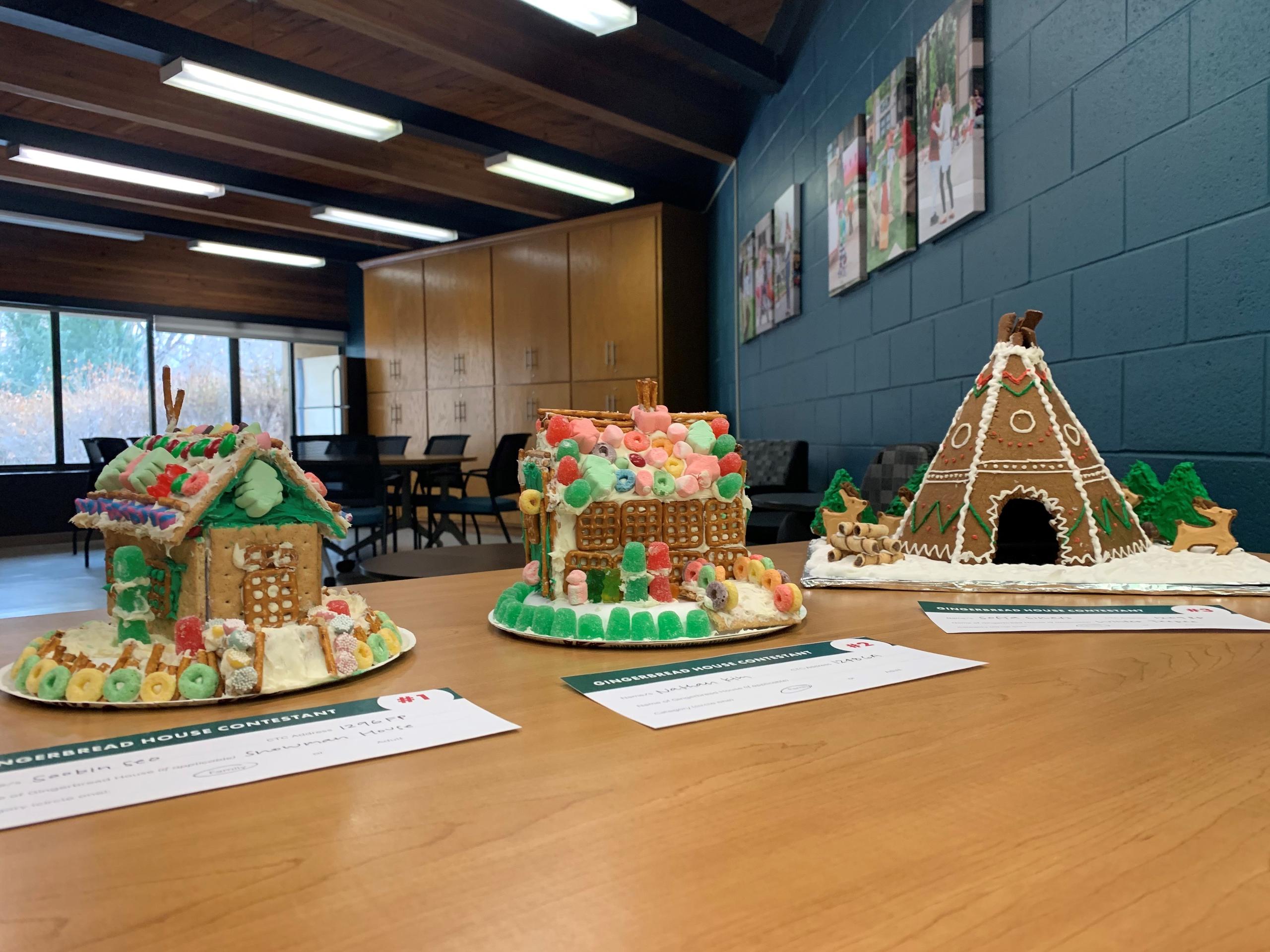 Gingerbread House Contest
'Tis the season to create a gingerbread house with your friends and family! Submit houses on Dec. 27-28 for a community vote, awarding two houses' creators Target gift cards.
The community is invited to pull out their rolling pins, grab a frosting bag and build gingerbread houses for submission in our second ever Gingerbread House Building Contest! The contest is free and open to all ages and skill levels!
"Gingerbread House" Contest Rules
Design & Assembly:
Participants must purchase their own kits or ingredients/decorations. You can use a pre-made kit if you choose, otherwise we encourage participants to make your own "house" from scratch!
Your "house" need not be made of gingerbread; decorate your creation with anything you like with all visible elements being edible.
Feel free to interpret "house" as loosely as you want to (it should however resemble a structure of some nature but imaginations and creativity are encouraged).
Group and individual entries are allowed. 
All designs must be family friendly.
Please limit gingerbread house bases to be 18×18″ or smaller.
Houses must be delivered fully assembled (minor additions or repairs on site allowed).
Prizes will be awarded in Family and Adult categories.
Submitting Your Entry:
Entries must be turned in on Tuesday, Dec. 27 or Wednesday, Dec. 28. Drop creations off in the Community Center Meeting Room between 9 am – 3 pm.
All participants must complete an Entry Form to submit with their house (retrieve form from CTC Office at drop off).

The form will ask your information (for prize purposes), a name/title for your house (optional), and which category you would like to be entered in (select one category: Family or Adult). 

Entries then must be picked up Tuesday, Jan. 10 or Wednesday, Jan. 11 from the room between 9 am – 3 pm.
---
Prizes
The community-elected winners from the Family and Adult categories will each win a $25 gift card to Target.
---
Community Viewing & Voting
AVAILABLE DEC. 29-JAN. 9
Voting Poll is open from Wednesday, Dec. 29 through Monday, January 9. 
Each CTC resident can cast one ballot, placing two votes for your favorite submissions: one for the Family category, and one for the Adult category.
View House Entries:
In-Person Option: All Gingerbread House submissions will be displayed in the Community Center's Meeting Room (located on the 1st floor across from CTC's Office)
Online Option: Images of houses will be posted on CTC's Facebook page.
Place Your Vote!
In-Person Option: Vote in the Community Center by submitting a voting ballot into the Rent Dropbox location on the CTC Office window.
Online Option: Vote via the online voting form. 
Future Programming: We want your help and ideas!
CTC wants to host similar winter themed activities and challenges throughout the season, bringing fun and rewarding perks to the community! Do you have an idea of an activity or event for our community? Or want to teach or learn a new skill or hobby or aspect of life? Do you want to help volunteer to bring your or other's ideas into fruition? Email CTC's Community Outreach Manager and/or join our Programs Committee!
Questions or Programming/Activity/Event Suggestions?
Please email CTC's Community Outreach Manager and we'll work together!