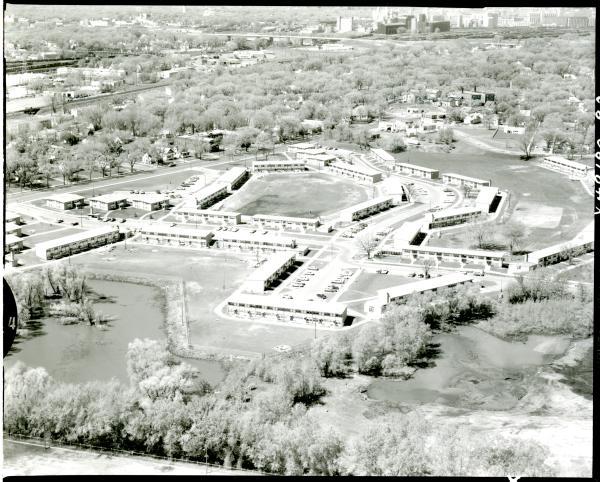 Beginning in 1970, CTC's was established from our residents' determination, innovation, and the power of like-minded individuals asserting that the community could be more economically managed by its residents, as prompted by numerous rent increases and tenant dissatisfaction with University management.
Now 50+ years later, CTC has stayed true in providing a quality, affordable housing option, as well as a peaceful work environment filled with vast green spaces and a family-friendly orientation. Our community continuously drives our co-op through collaboration, ingenuity, and leadership, while ceaselessly growing CTC into the vibrant, all-inclusive hub of diverse cultures, ages, studies, and backgrounds it is today.
---
1969
May 3, 1969, was not a typical Minnesota day. University of Minnesota officials, state politicians, a large group of students and their families marked the beginning of a new dawn for student housing at the University of Minnesota. Fathers, sons, mothers, and daughters joined in a two-generation protest of a possible Commonwealth Terrace rent increase on the steps of the Minnesota State Capitol.
1970
The idea that housing could and should become a cooperative was born in 1968. The idea did not become reality till 1970. A series of rent increases followed a proposal to further increase rent coupled with resident dissatisfaction with University management and maintenance, inspired a challenge against the University's management of married student housing. Residents claimed that the community could be more economically managed by its residents.
After a march on the capitol, threatened rent strikes, and marathon negotiating sessions, University officials concluded that the resident group had sufficient determination to effectively execute the experiment of managerial and maintenance responsibilities.
The University turned over these responsibilities to Commonwealth Terrace Cooperative, Inc., July 1, 1970. A contract for services was signed June 5, 1970. Commonwealth Terrace Cooperative, Inc., a resident-management cooperative, operates under a management agreement with the University of Minnesota, which still owns the land and physical structures.
The foundation on which the Cooperative was built and is maintained is best expressed by the quote: "Organized to provide the best possible management and maintenance at the lowest possible cost for its resident members; dedicated to the principle that ordinary people, working together on a cooperative basis and provided with adequate information can, and generally will, make decisions resulting in sound enterprise assuring the long-term benefit of present and future members."
Each household has the opportunity to purchase a membership, thus becoming a voting member. The cooperative community is divided into 14 total wards. The Board hires a manager, and the manager hires and /or provides such additional staff as required to do repairs and maintenance and collect rent and lease apartments. As a professional, he/she is asked to make knowledgeable recommendations to the board, but the board sets all of the policies under which he/she operates. To allow further participation and community involvement, there are several standing committees and additional ad-hoc committees as needed. 
These committees offer programs, help with Finance and budget, resolve disputes, educate on crime prevention, develop new projects and provide recreational and educational programs. Meetings are generally open to participation by all residents. In addition, residents are often informed through ward officials, surveys, newspaper articles, and or flyers.
Commonwealth Terrace was instrumental in the development and operation of the Chateau Community Housing Association, a high-rise single-student-housing Co-op in Minneapolis, and Como Student Community, a family student -housing Co-op also located in Minneapolis.
2008
In 2008, Commonwealth Terrace Cooperative experienced a crises in leadership that led to the demise of the 14 member board. A board of directors was selected from active committees and recreated the Bylaws and Articles of Incorporation to reflect changes that were established and implemented by the new board and approved by the members in May of 2009. The new governance allowed more flexible membership rules and a focus on resident programs.
2023
Commonwealth Terrace has now operated for over 50 years without concerns of its own or without needing assistance. As in all enterprises, there are peaks and valleys of progress and high and lows in productivity and participation. Nevertheless, as long as there is a willingness to build on the joint efforts and strive for the same goals, the cooperative will survive, and the fruits of its toil will continue to be enjoyed by those it serves. The cooperative is now comprised of 464 apartments, averaging three persons per household. International families make up 85 percent of the CTC population.